Monday, November 07th, 2011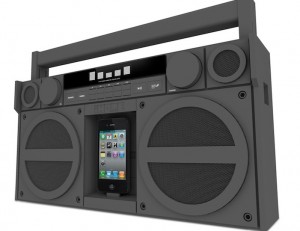 iHome's iP4 is an iPhone or iPod speaker that has retro style based on a boombox of the past.  The iP4 Boombox also has an FM radio, 4-inch carbon composite woofer and aux line-in jack.  For true boombox portability it runs on 6 D batteries or it can be used with an AC adaptor.
The iHome iP4 Stereo Boombox comes in either black or pink and sells for about $200.  Find out more about the iP4 on the iHome website.
Category: Uncategorized | Comments (0) | Author: Catie