Wednesday, August 25th, 2010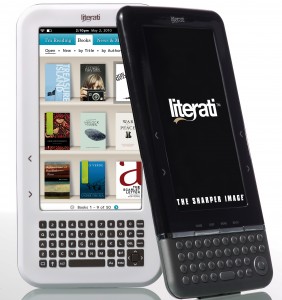 As the demand for e-readers continues to expand, Sharper Image has decided to jump into the fray. The company is best known for its store and catalog that sell high tech gifts and gadgets. Now Sharper Image has decided to complete with Sony, Amazon and Barnes & Noble, who are emerging as the leaders in the e-reader gadget category. Already, early competitors in the field like Plastic Logic have dropped out of the reace.
The Sharper Image e-reader is named "Literati" and will retail for about $160. It features a color screen and will be powered by the Kobo e-book store. The device has wi-fi connectivity and supports wireless downloads, plus free reading apps are promised for the Literati. Sharper Image plans on selling its e-reader in its own stores and in other stores including Bed Bath & Beyond, Kohl's, Macy's, JC Penney and Best Buy.
Category: Uncategorized | Comments (0) | Author: Catie