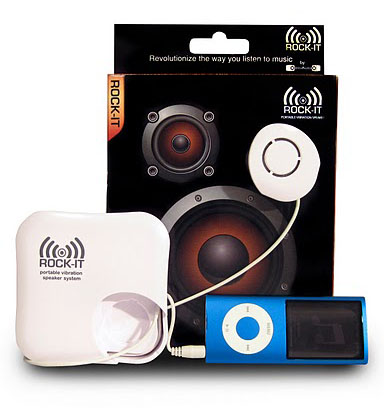 The Rock-It is a portable speaker system that uses vibration to turn any object into a speaker.  Simply stick the Rock-It pod to any object and the Rock-It transmitter will take sound input from an MP3 player, iPod, cell phone or other gadget and create vibrations that are broadcast from the pod.  The Rock-It  is powered by 2 AAA batteries or a USB connection and workd with any device that has a headphone jack.
Rock-It is produced by OrigAudio, an innovative company that also sells the Fold n' Play Recycled Speakers, which were voted on of the 50 Best Inventions of 2009 by Time Magazine.
See inventor Jason Lucash demonstrate the Rock-It Speaker System in this YouTube video: 
You can read more about the inventor at Danville Patch.