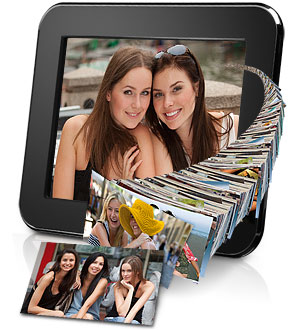 Digital frames have been around for a while now, but the Kodak PULSE offers a new twist. The PULSE allows you to easily receive and display photos from friends and family. The PULSE is email enabled, eliminating the need to transfer photos from computer to frame. Imagine how exciting it will be to come home and find out your PULSE has mail!
Photos can be sent from any computer or mobile phone. Travelers can send pictures while on the go and you can also link to photo albums on Facebook and Kodak Gallery sites.
The PULSE requires no software installation and includes a built-in WiFi. You can also insert a memory card or USB and view saved pictures. Read more about the PULSE on the Kodak website.