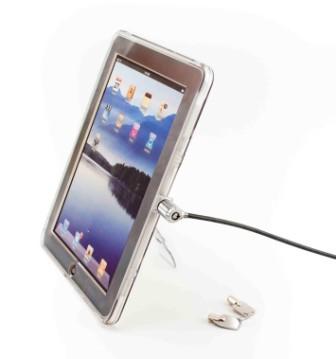 Everyone want to get their hands on an iPad. Protect yours from tampering and theft with the iPad Case, Lock and Cable. The iPad as delivered by Apple has no built-in security slot, so this hard, clear plastic case provides one. Leave the case on for everday protection, then connect the security cable to the case and wrap the other end around a fixed object to secure your iPad.
The iPad cable weighs less than one pound, is very flexible and features a sleek lock-head. It can be easily packed up and carried in a briefcase, purse or pocket.
You can buy the iPad Lock, Cable and Case in a bundle at Maclocks.com.